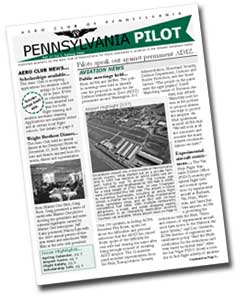 Aero Club membership includes 4 issues of the PA Pilot featuring:
Aviation News: Current local and national aviation news.
Local Airport Report: News about airports in the Delaware Valley.
Pilot News: Articles of special interest to pilots.
Aero Club Calendar: Dates and locations of Aero Club and local aviation events.
Advertise in the Newsletter: Advertising Rates.
For inquiries, e-mail us at mailbox@aeroclubpa.org