The history of aviation and ballooning in the Philadelphia area will be highlighted at the 2017 Chester County Ballon Festival. The Aero Club will host the history display and has invited important ballooning pioneers as docents. Sign up to help.
1. First Air Voyage in America was right here in Philadelphia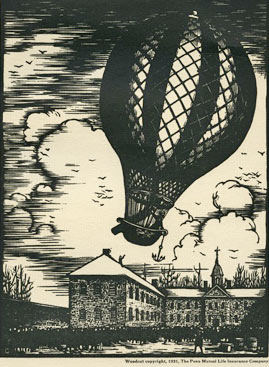 Can you believe it? The first air voyage of any kind in the United States occurred right here in Philadelphia on January 9, 1793. A frenchman, Jean Pierre Blanchard brought his hydrogen balloon from France and departed from the large prison yard of the Walnut Street Penitentiary, just behind Independence Hall. His flight was witnessed by President George Washington. He flew south across the Delaware River and landed in New Jersey.
Read more about this historic first flight at History.net, and about the 225th Anniversary celebration to take place in Philadelphia in 2018. See the FAVIA website for more details.
2. Early civilian Ballooning in the USA.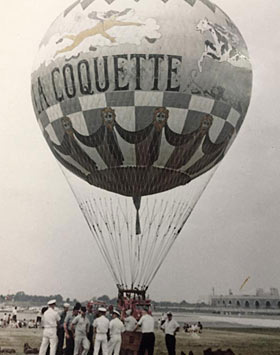 After Blanchard's first flight, gas ballooning remained active well before powered flight in the 1900's. Early members of the Aero Club of Pennsylvania participated in gas ballooning beginning in 1908. Later, the military experimented with gas balloons to help train pilots for blimp flying. In 1931, Philadelphian Tony Fairbanks, working in Cleveland, Ohio, purchased a surplus military gas balloon and started flying there. He and others formed the Cleveland Balloon Club.
Later, in the 1950's, a small group created the Balloon Club of America in Swarthmore, Pennsylvania. This group included Don Piccard, Tony Fairbanks, John Dura and Jerry Burns. Their large gas balloons carried five in the basket and were inflated with cooking gas which was provided by the Philadelphia Electric Company by turning an underground valve. The smaller balloons carried two to three persons and were inflated with hydrogen gas delivered by a truck.
Some of these great participants in ballooning during this era will be guests at the 2017 Chester County Balloon Festival.
3. Guest: Bob Sparks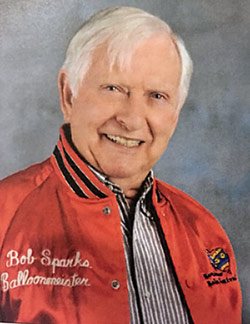 Bob Sparks has over 6000 hours flying balloons. Since 1970, he has flown in every state except Hawaii and in 37 countries. He is the only hot air balloonist to have crossed all five Great Lakes. Twice he attempted to be the first person to cross the Atlantic by bal- loon. On his first attempt in 1973, his gas/hot air hybrid balloon got caught in a thunderstorm and was struck by lighting 48 times. He ditched in the Atlantic Ocean and was picked up by the Canadian Coast Guard. His second attempt in 1975 ended early with a leak in the balloon envelope. Later, he spent 7 years flying balloons in Russia. Then, he returned to Pennsylvania where he has been developing an ultralight gas airship. He resides in Slatington, PA.
4. Guest: Michael Fairbanks
Michael is a distinguished gas and hot air balloon pilot, following in his father Tony's gas ballooning footsteps. He flew in his first gas balloon flight in 1958. He obtained his free balloon commercial certificate in 1971 and purchased his first hot air balloon in 1973. Michael was an F.A.A. Balloon Pilot Examiner for over 20 years. He flew in the First World Gas Ballooning Championship of 1976 and the Gordon Bennett Balloon Race in 1990. Published a book of balloon history and has many articles in ballooning magazines.
5. Guest: Eleanor Vadala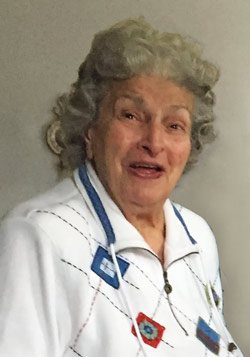 Eleanor Vadala was a 20th century pioneer in ballooning. introduced to the "sport" by Anthony "Tony" Fairbanks. Eleanor's first gas balloon flight was with Don Piccard in 1959. In 1967, as a member of the Balloon Club of America, Eleanor was entitled to use the famous club balloon "La Coquette," the brightly painted balloon used in Mike Todd's movie "Around the World in 80 Days." Though Tony Fairbanks accompanied Eleanor, she was the pilot-in-command. In Eleanor's words it was "a lady flying a lady." She flew in several international races.
6. Hot Air Ballooning today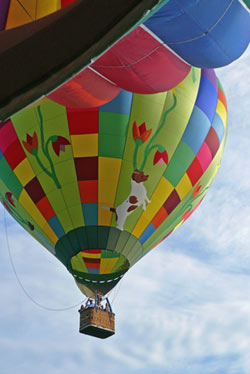 Hot Air Ballooning has been active in the United States and around the world for over 60 years. There are balloon festivals around the country throughout the flying season and balloon companies provide scenic flights in most areas of the country. One of those festivals takes place right here in the Philadelphia area at the Chester County Balloon Festival.